"You are the bows from which your children as living arrows are sent forth"
Kahlil Gilbran
This weeks Living Arrows was a particularly proud mummy moment for me.
Izzie took her promises at Brownies, and got to wear her uniform for the first time. She was so proud and looked so grown up. When she was repeating her promises I had a tear in my eye – I am so lucky I get to be this little ones mummy.
It also surprised me how all the Brownie songs and traditions came flooding back to me. I found myself repeating 'twist me and and turn me and show me the elf' and I can sing word for word the song they sing at the end of a session. I have so many happy memories of Brownies and I really hope for that for Izzie.
I also really credit Brownies with teaching me a lot of life skills, from basic cookery, to home safety. I'm so happy that Izzie gets to take part in the same experiences I got to do at her age.
So this weeks photo is Izzie proudly modelling her Brownie uniform – and then also showing off her badges (she is in the Kelpie six) and promise certificate.
She continues to amaze me every day, and I know I always say it but I'm so proud of my little mini me.
See who else has linked up with Living Arrows with Donna at What The Redhead Said this week by clicking here….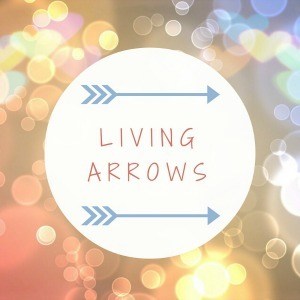 Quickly as well, I've decided I'm going to alternate each week between Living Arrows and Ordinary Moments from now on – at least until my work and home life get slightly quieter (not that I'm complaining!). I love both and I think this is the way forward so I can keep enjoying them!